As we're rapidly approaching the end of the year, it's a great time to look ahead at where we're going and the marketing trends we're likely to see more of in 2020. I've already touched on how we can expect marketing to evolve on a strategic level, and in this article, I'll be looking in more detail at some of the specific trends to look out for.
Technology continues to advance at a rapid pace, so of course, some of these trends are focused around technology. However, there's also a pushback against the increased digitization and automation of interactions between brands and consumers, and a desire to make marketing more human again.
While technologies such as AI and data-driven marketing will certainly be big trends for 2020, the overarching focus will be on people, not technology.
Quick Takeaways:
The marketing trends that will dominate in the next 12 months will include Customer Experience, Employee Engagement, and Content Visualization.
The definition of what we consider as "marketing" is constantly changing and becoming broader.
Marketing has moved beyond branding and advertising; marketers must work together with other departments to focus on building great customer experiences and engaging them for long-term relationships.
1. Customer Experience
2020 will be the year of the customer. We're seeing a massive shift in beliefs about what marketing actually is. It's no longer about trying to convince people to buy from or work with your company. Instead, the priority has moved towards providing fantastic customer experiences that will keep people coming back for more. In a sense, when you focus on building a positive business culture and providing great service, the marketing almost takes care of itself.
The growth of online content has given consumers more power. They are no longer a passive party when it comes to learning about products. They're not waiting for you to tell you how great your products are. Instead, they're going out and doing their own research.
So you have to offer them something more than information.
Customer experience or CX is already the hottest buzzword in marketing circles, but it's more than just a passing trend. 73% of people say that customer experience is an important factor in their buying decisions, but currently only 49% of US consumers say that today's companies provide a good experience.
What exactly makes a great CX? Efficiency, convenience, knowledgeable and friendly service, and easy payment options are what people value most in their customer experience. But aspects more traditionally considered as marketing's domain are cited too: up-to-date technology, personalisation, an easy mobile experience, brand image, and design all add up to the overall customer experience.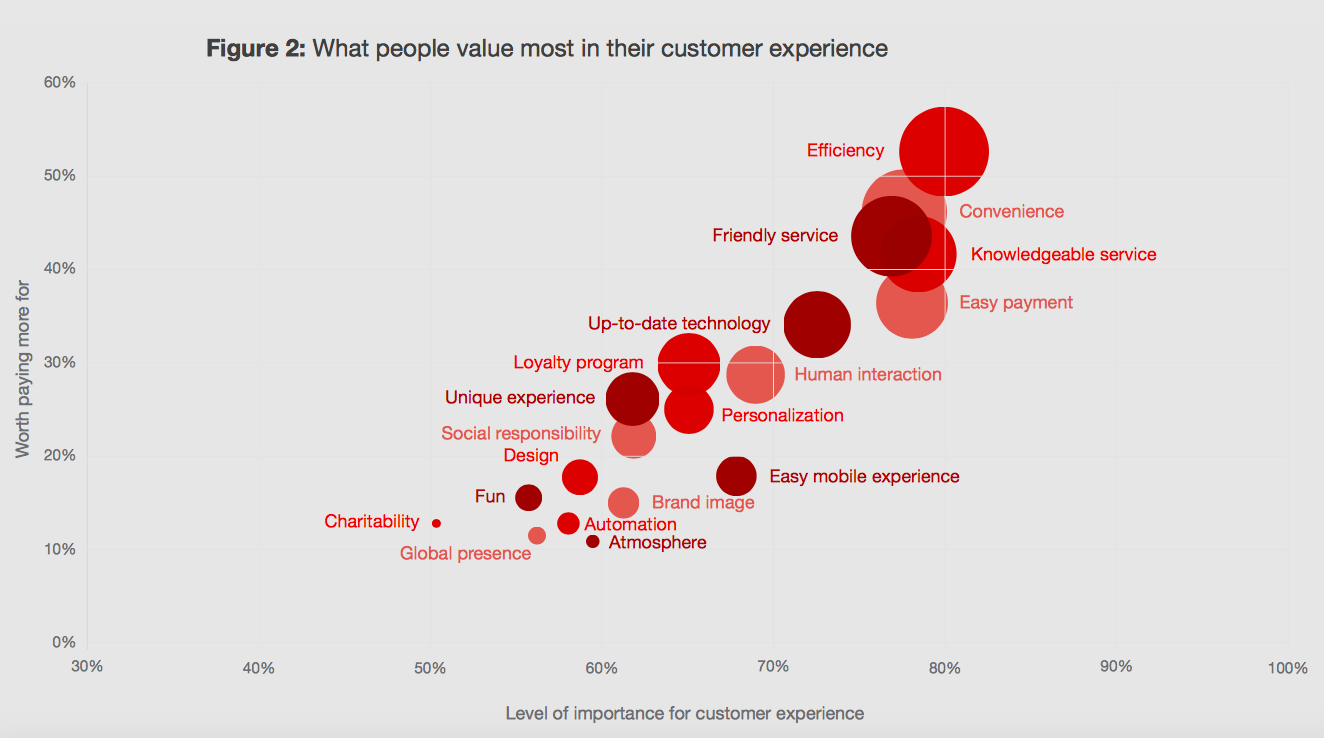 In other words, you need to consider CX in every aspect of your marketing strategy. This is how you can provide a great experience in order to keep your customers and attract new ones.
In fact, as you go through this list, you'll see that every trend is really just one factor of the overall customer experience.
2. Employee Engagement
If efficient and friendly service is the cornerstone of great customer experience, how do you ensure you're providing this? The answer, of course, is in your employees. The previously mentioned research also found that 46% of consumers will abandon a brand if its employees are not knowledgeable, and bad employee attitude is the number one factor that stops individuals from doing business with a company.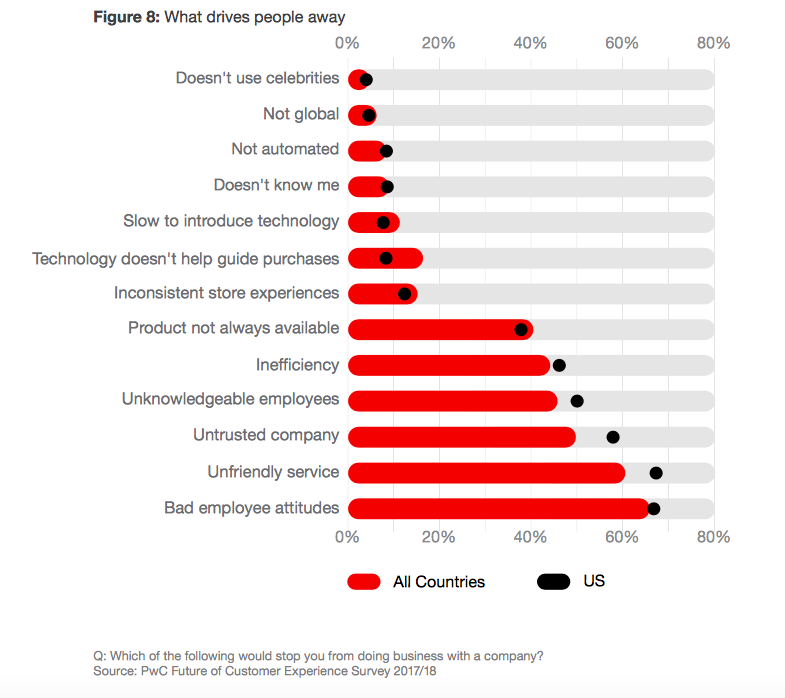 Your employees are the human face of your brand, so concentrating on interactions between your employees and your customers should be a key part of your marketing strategy.
When you're turning the responsibility of creating a great customer service over to your employees, you need to make sure that they want your business to succeed as much as you do.
The key to this is building a solid foundation of employee engagement and taking steps to ensure every employee understands and is aligned with your brand mission and values.
You can't expect your employees to care about your customers if they're not happy at work and don't really believe in what you're doing as a business. So achieving a high level of employee engagement is the first and most important step in improving customer experiences.
3. Visualization
With the explosion of smart speakers and voice search in recent years, you'd be forgiven for thinking that "readable" content is more important than visuals and design these days.
In fact, this couldn't be further from the truth. While advancements in voice search are certainly influencing the way that we'll create content now and in the future, you shouldn't neglect visual content either.
Research has shown that people prefer visual content to plain text. You just have to look at the growth of image-focused platforms Pinterest and Instagram to see the proof of this.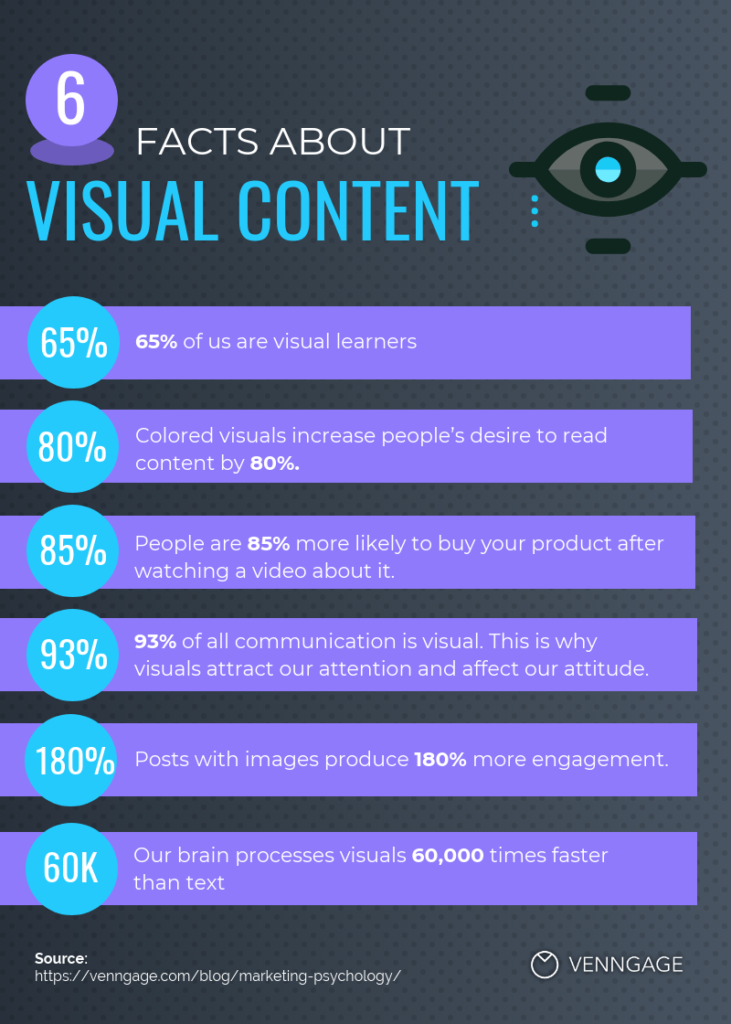 Google, Pinterest, and several other companies are also investing in visual search technology. Images are already returned for 19% of searches on Google, and 62% of millennials say they are more interest in visual search than any other new technology.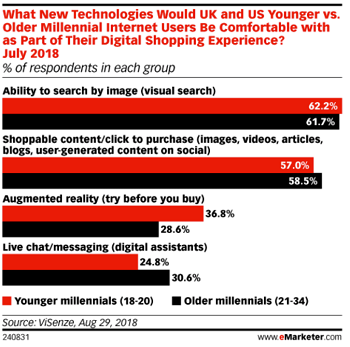 Visuals are also easier to remember than written content. Adding data visualizations, infographics, images, and videos to your text not only makes it more interesting and attractive, but it can help your message to be absorbed better too.
4. Personalization
Increased data collection and advancements in technology have already had a huge impact on the level of personalization that is possible and on what consumers expect from their interactions with brands.
Today's consumers are flooded with marketing messages from multiple channels to the point where they have started to tune them out. Traditional advertising is losing its effectiveness, so what's the answer? Personalized marketing messages that forge a real connection between the brand and the target market.
80% of consumers said that they'd be more likely to do business with a brand that provides a personalized experience, as per a survey by Epsilon.
In the 2002 movie Minority Report, the character John Anderton, played by Tom Cruise, is bombarded by a series of personalized ads calling him by name as he walks through the city. This was obviously complete science fiction at the time, but not quite two decades later, reality has almost caught up with the marketing future of Stephen Spielberg's imagination.
Marketing personalization is no longer limited to automatically changing the name of the person you're addressing in your email newsletters. Improvements in technology such as AI combined with increased data collection and insights from social media and other sources have made it possible and easy to hyper-personalize everything from content to design to product recommendations and everything in-between.
5. Strategic Marketing Transformation
When you're reading about up-and-coming trends in an article like this, it's all too easy to think that being successful in marketing can be simplified to following a list of best practices and making sure you're using the latest techniques and technology.
The business of marketing is becoming increasingly complex. For companies to succeed in 2020, they'll have to think beyond what they're doing and link everything back to the why of the business as a whole. Your marketing goals and objectives must align with the overall goals of your business.
Strategic marketing transformation is the term used to describe the process when a business operating without a strategic marketing plan evolves by changing its fundamental business processes and procedures.
Undergoing a marketing transformation can help companies to improve customer service and experience, boost brand awareness and reputation, and ultimately increase revenue and profits.
Businesses achieve these benefits through a combination of data collection, using modern technology, building customer relationships and engaging with customers online, publishing quality content, and improving their online presence. All of these things are part of the underlying strategy that influences every department and employee in the company, not just the marketers.
Your strategic marketing plan defines goals and determines which marketing tactics you will employ to reach your customers including content marketing, SEO, email marketing, social media, advertising, and offline marketing. It then lays out a plan for how every part of the organization will be involved in these tactics.
To put it simply, the marketing strategy is no longer only the responsibility of the chief marketer or CMO. Strategic marketing transformation recognizes this and ensures that the brand, company reputation, customer relationships, and the customer experience as a whole are considered in every business activity.
6. SERP Position Zero & Featured Snippets
SEO will continue to be an important aspect of digital marketing as we move into 2020, but we're now seeing one of the most major shifts in the SEO industry in the last decade.
With the growth of mobile and voice search, people are changing the way they use search engines like Google. Being number one in the search engine result pages or SERPS is no longer necessarily the primary goal your business should be aiming for.
You've probably noticed your own search and browsing behavior has changed in the last few years due to Google changes and the fact that you're looking for the fastest information when you're on the move.
Featured snippets and other "on SERP" information means that you don't need to click through to a website to get the information you're looking for anymore – it's right there on the Google search results page.
This on-SERP information may appear in various places, but the most sought after position is right at the top of the page, before the organic listings. This position has been dubbed "position zero". As it's often the only information that a searcher will view, it's highly coveted. Over 60% of search results returned by Google are now position zero search results.
Brands are still trying to figure out how to achieve position zero as it requires different SEO techniques than those employed for a normal listing in the SERPs. If you can be the first in your industry to get there, you'll have a huge advantage over your competitors. So expect to see more SEO companies offering this service over the next year, and pay attention to the latest best practices for optimizing your content.
7. Voice Search
I've mentioned voice search a couple of times already, so you knew it was going to be on this list. Voice search shows no sign of slowing down and will continue to be a major influence on how brands create content and market themselves online.
We're not quite at the commonly cited prediction that 50% of searches will be driven by voice in 2020 (we're currently sitting at about 20% according to Google), but this statistic is probably not that far in the future. The smart speaker business is booming, with around a quarter of US households now owning a Google Home, Amazon Echo, or another smart speaker.
Consumers are also expecting to use voice search more in the near future – 61% of those aged 25–64 who already use a voice device intend to use it more in the future according to research by PwC.
Voice search brings with it new challenges but also exciting opportunities. "Branded skills" is one example of a smart speaker advertising opportunity that emerged in the last year. Tequila brand Patròn is an example of a company that's seen huge success from using branded skills. Smart speaker users can ask their digital assistant to "ask Patròn for a cocktail recipe." This not only helps to increase brand awareness and visibility, but it also enables users to buy the product directly from the recipe results.
Even if your brand isn't ready for smart speaker advertising, it's important that your content is optimized for voice search. Voice searchers use search differently. They use longer, more conversational queries, so slanting your content to serve these queries, as well as answering questions directly, can help to make it more visible to voice searches. This has the added bonus of making your content more likely to be picked up as a featured snippet or found on position zero on Google.
8. AI-Based Automation
Will 2020 be the year of the rise of the robots? Maybe (but hopefully not in the Terminator-style of dystopian science fiction movies!)
We've already seen huge advancements in AI over the last few years, and a great increase in the number of businesses using AI-powered technology and automation to assist their marketing efforts.
AI is one of the major technologies behind voice search and smart assistants. It's also made chatbots possible, which are now popping up on more websites than ever before.
AI technology and automation are helping to take some of the grunt work out of marketing so brands can concentrate on strategy and crafting a fantastic customer experience.
Remember, the human aspect of marketing is still important (perhaps more important than ever before), so the idea is to use this technology to enhance your marketing efforts, not replace the real people behind them.
Big data, supported by AI and predictive analytics, is also helping brands to learn more about their audience and customers. It's enabling hyper-personalization of customer experiences and marketing messages at scale.
9. Focus on Customer Retention, Loyalty and Advocacy
A huge part of providing a great customer experience is making sure that CX is ongoing and focused on keeping your existing customers, rather than just attracting new ones.
Recurring customers are more valuable than new customers. Studies have found that it costs five times as much to attract a new customer as it does to keep a new one, so it's definitely worth putting in the effort to keep your customers happy.
Loyal customers also help to increase the reputation and awareness of your brand as they'll talk about your company and products with their friends and family. Happy customers make great (and free!) brand ambassadors and influencers.
Many of the above-mentioned trends and technology can be helpful for increasing customer retention rates. Personalization, for example, is certainly expected from your existing customers if not your new ones, and it gets easier to personalize communications the more interactions someone has with your brand.
10. Live Video
The live video industry is expected to be worth over $70 billion by 2021. Live video is incredibly popular with consumers, and people spend three times longer watching live video than they do watching pre-recorded video.
Video is also the most popular way for consumers to learn about new products.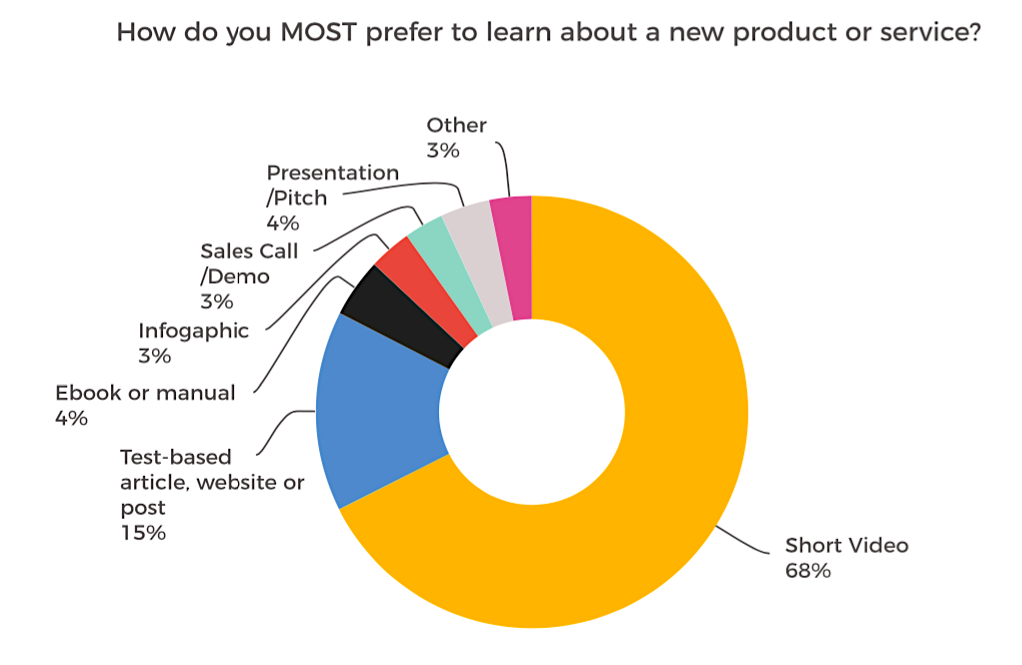 When the live element is added, this makes video more engaging as the audience feels they're a part of it and can influence the content, rather than just passively watching.
Live video is great for grabbing the attention of your social audience on Facebook or Instagram. These types of videos are so attractive to viewers because they tap into "FOMO" or fear of missing out. When you're not sure if a live video is going to contain a tidbit of information that you can't get anywhere else, or it will mean you're the first to find out about some new and exciting news, you're going to want to watch it.
Get Ready for 2020
Now is the time to start planning your 2020 marketing strategy if you haven't already. Make sure you start the New Year with a clear plan of your goals and how you're going to achieve them.
I can't really call it a trend, but it goes without saying that content marketing will continue to dominate the digital marketing landscape in 2020. Most of these trends rely on content in some way. To have success in them you'll need to have a solid base of quality content across all your marketing channels.
If you are ready to get more traffic to your site with quality content that's consistently published, check out our services. Set up a quick consultation, and get started today to generate more traffic and leads for your business. Visit Yullux.com!